Forum 2020
Due to the risk of COVID-19, the National Farmed Animal Health and Welfare Council has elected to cancel the NFAHW Council Forum 2020 which was scheduled to be held on November 24 and 25, 2020 in Ottawa, Ontario. In lieu of Forum, we will be hosting three virtual events which will be held on November 10, 17, and 24, 2020. Simultaneous translation will be provided for these events and as such will be available in both English and French.
Registration is now OPEN! CLICK HERE
AGENDAS
Virtual Event #1 - Assurance and Innovation November 10 – 10 am Central
Setting the stage – What is driving change and innovation
Lisa Keefe – Editor in chief - Meating Place – Assurance beyond the farm gate – Consumer expectations
Innovating in a complex environment
Marco Volpe – Poultry Producer - Hatchery Innovation – In Barn Hatching to Enhance Health and Welfare
Dr. Egan Brockhoff – Veterinary Counselor – Canadian Pork Council – discuss broad topics in swine innovation, adapting to sow stalls, geofencing, pain management and custom vaccination
Dr. Shane Renwick – Manager, National Issues and Animal Welfare - Canadian Veterinary Medical Association – SAVI: An Innovative Approach to Engaging Veterinarians on Antimicrobial Stewardship
Corlena Patterson – Executive Director – Canadian Sheep Federation – Innovation and new ideas in traceability and humane transportation in the sheep industry
Panel Discussion with Government and Industry Leaders
Panel Discussion – Dave Taylor – Dairy Farmers of Canada and Dairy Producer, Colleen Barnes – Canadian Food Inspection Agency, Vice President of Policy and Programs Branch, Dr. Nicole Wanamaker – Chief Veterinary Officer New Brunswick
Virtual Event #2 November 17 - 10 am Central - Animal Welfare - A Vision for the Future
Dr. Marina Von Keyserlingk – University of British Columbia Professor and NSERC Industry Research Chair in Animal Welfare – Advancing Animal Welfare
Dr. Andria Jones-Bitton – Associate Professor of Epidemiology, Department of Population Medicine, Director of Well-Being Programming, Ontario Veterinary College, University of Guelph - A story of anti-agriculture campaigns, farmer mental health and animal welfare
Producer Perspective - Perspectives on advancing animal welfare and importance of farmer mental health
Barbara Cartwright – Chief Executive Officer, Humane Canada - Building partnerships to collaboratively advance farmed animal welfare
Panel Discussion With Presenting Speakers
Virtual Event #3 – November 24 – 10 am Central - COVID-19 - Unintended Consequences and Lessons Learned
Dr. Harpreet Kochhar – Associate Deputy Minister of Health Canada – Using Lessons Learned from COVID-19 to Prepare for Animal Disease Events
Jarrod Gillig – Business Operations Supply Chain President, Cargill Protein North America - Processing Industry Perspectives on the Impacts of COVID-19
John Ross and David Moss – Canadian Pork Council and Canadian Cattlemen's Association – COVID-19 Impacts on Animal Production – COVID 19 and Responding to Its Unintended Consequences can help us prepare for the next event
Claire Citeau – Executive Director – International Trade Impacts of COVID-19 – Canadian Agri-Food Trade Alliance
Marianne Patten - Executive Secretary - Canadian Mink Breeders Association – COVID-19 and the mink industry
Panel Discussion - Presenters along with Frédéric Seppey – Assistant Deputy Minister, Market and Industry Services, Agriculture and Agri-Food Canada, Dr. Jaspinder Komal – Chief Veterinary Officer of Canada, Canadian Food Inspection Agency, Steven Sternthal – Director General, Public Health Agency of Canada
Stay Tuned for More Speaker Updates!!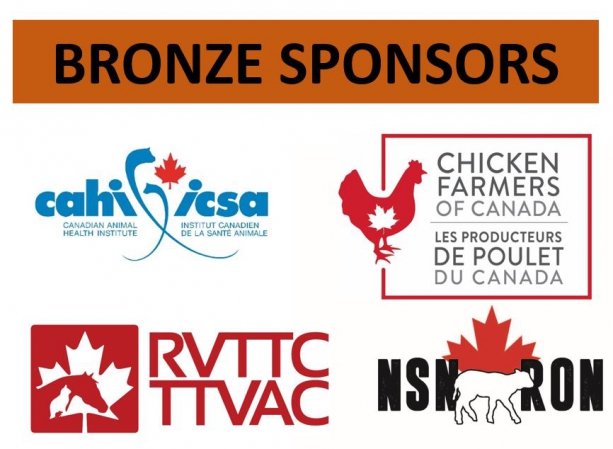 Please click here to explore sponsorship opportunities!
Please check back with our website regularly as we will be posting more detailed event agendas in the near future.